TrainFX at Middle East Rail – Dubai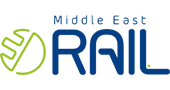 Last week out Managing Director, Qingsong Han, Engineering Director, David Bradley and Sales Manager Jacqui Taylor took TrainFX's innovative rail technology solutions to the Middle East and to the Middle East Rail Exhibition in Dubai.
Hosting over 5,500 attendees and 300 exhibitors from around the world, the exhibition this year took place over 25th and 26th February 2019 at the Dubai International Convention and Exhibition Centre.
Together with our partners in China, this continues to help pave the road ahead for exploring the many exciting opportunities in the global export market!