TrainFX Win Best Innovation Award
Last week TrainFX picked up the exclusive award for "Best Innovation Idea" 2017 presented by Wabtec Faverley UK, part of the multi-national Wabtec group and a key player in the global rail manufacturing industry.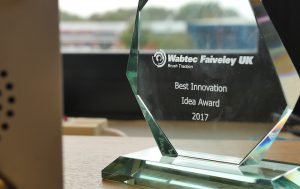 The accolade was awarded during their supplier day event, held in Leicester and attended by numerous industry suppliers and buyers alike. During the day, our Sales Manager, Jacqui Taylor and Engineering Director, David Bradley gave a presentation and demonstrated their fully integrated, real-time passenger information solutions.
Accepting the award on behalf of TrainFX, Mr Bradley explains, "This award and the achievement it represents truly reflects the hard work and dedication of  all of our staff and our drive to engineer not just bespoke turn-key solutions, but solutions which are the result of really listening and understanding our customers needs and the unique challenges they face.